My Outfit

(What I took, what I used, what I didn't)


At 10.5' and 17 pounds it is easy to portage and a breeze to maneuver on the small winding rivers on this trip.  A
Cooke's spray cover
increases speed and aids in paddling in high wind and waves--see account of
crossing Cummings Lake

At the last minute I discovered my Hornbeck paddle, a hexagonal wooden shaft with Kevlar blade, had developed some rot under the Kevlar.  I purchased an 8.5' Grey Owl double bladed Tempest with 24 laminations of various woods.  This is longer than the recommended length but I was very happy with it--less drips and plenty of reach in shallow places.

Check out my
portage yoke
(pictured in front a blow down on the Buck to Glenmore portage).  You'll see that instead of being straight across it raises the canoe about 6" above my shoulders.   The downside of the spray skirt is that portaging with the usual yoke is like putting your head in a bucket. The skirt can also press on your back making it difficult to tip the canoe up to see where you are going.

Compass mounted on front thwart, Seal-Line map case (never a leak) tied to the spray skirt, and a Garmin GPS 38 complete the canoe set up.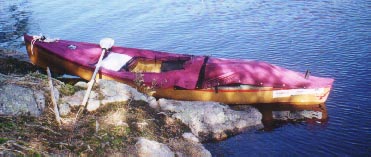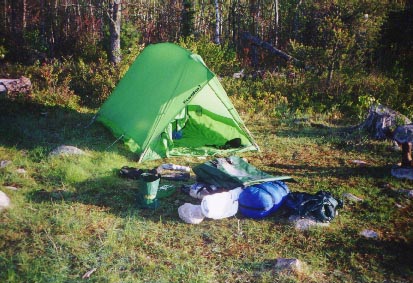 Here's  a not-so-clear shot of my gear just before it's all loaded into my pack.  This is the southern Bootleg Lake campsite.

Wal-Mart Compresson Bag containing: LL Bean down 20° sleeping bag, extra clothes (wool socks, underwear, wool shirt, fleece--vest, jacket and pants, knit hat, light weight long underwear, sneakers), Pack Towl and Therm-a-Rest pillow. Cooking bag: Peak 1 stove, extra fuel bottle, pot grabber, waterproof matches, scrubber, 2 nesting pots with lids, plastic cup and plastic coffee press, spoon and fork, PVC collapsible bucket, Pur Pioneer water filter (1 extra filter)  Miscellaneous: 2 x 25' parachute cord bear rope, saw, Pelican VersaBrite flashlight, duct tape, book (3 Years in a 12 Foot Boat), notebook, head net. Tent: Eureka Timberline 2 person. Pad: Therm-a-Rest Ultralight ¾. Pack:  Cabela's "Vision" Dry Bag with hip belt (large). Belly Bag: bug dope, sunblock lotion, compass, matches, camera, chap stick, Gerber multi-tool. Toilet kit. Raincoat--Mountain Hardware polyurethane coated w/ zip pits & mesh pockets--& pants.

Here's what you see: (Yellow means I never used it).

What I Wore:

REI zip off nylon pants, Columbia nylon shirt, wool socks, Timberline insulated 10" boots, 17" Tingley overboots, 50/50 t-shirt, OR "Seattle Sombrero" Gore-tex hat, neoprene paddling gloves.
Food


Breakfast: oatmeal and granola, Lunch: Ry-Vita w/ Cheese or Peanut butter, Supper: Dehydrated dishes from homebeans and rice the best.
Very Important: What does it all weigh?

Weight  (in pounds)

17

canoe
2

paddle

2

spray cover
5

yoke
52

loaded pack (incl. Food)
78

Total
I made this from a 12x12 white poly tarp.  Edges have a piece of 1/4" rope held in with double sided carpet tape.  Duct and other tape reinforces it.  Grommets are along the edges.  It allows you to cook outside your tent and be completely free from the wind and rain. Wind always seems to eddy around a flat tarp.  It worked well and cost only $35.

(Test of prototype for my Alaska trip.)