Shipp & Mo's Thelon River Expedition

Wind Bound at Meadow Camp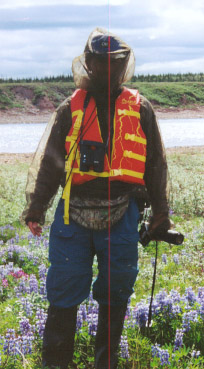 We were wind bound; but I didn't just stay in the tent.  I walked among the wildflowers and the bugs.

Wind Bound at Meadow Camp


We awoke to a cold windy rainy day.  We had slept a little later; we both had trouble sleeping.  Mo thought he heard footsteps near our cooking shelter around 12:00 midnight.  It was still light and he just unzipped a window in our tent and then reported that there was nothing there.  I went out to pee around this time in just my Capilene long johns.  In a few seconds I was covered with biting mosquitoes that bit right through.  I now knew what Mo had experienced a few days before.

A long breakfast followed.  We were in no hurry to break camp and start paddling into the wind and rain.  So we took our time and hoped that it would stop.  I had cornmeal Johnny Cakes with butter and real maple syrup.  Delicious!  We decided to retreat to the tent.  There was no letup in the storm.  We got back in our sleeping bags and talked and dozed for a few hours.  We emerged around 3:00 p.m. and had a joint lunch of Cache Bay Minestrone (not great and slow to cook) and Cache Bay Fry Bread (excellent).  I took a walk along the river and found an old wolf den. 

When I got back, we decided to spend the night since the 12 mph wind and a temperature of 52° were pretty fierce.  But around 6:00 it totally cleared off and, to quote from my journal, "now at 8:45 the wind has died and it's 75° in the tent with a steady high barometer.  (I should mention that this information came from a Brunton Sherpa "atmospheric data unit".)  We made plans to get underway early the next morning.  I had a light supper of Annie's Mac and Cheese while Mo only had hot chocolate.  We saw a rough legged hawk soaring above the ridge across the river.  The mosquitoes, as usual, stepped up their attack around 8:00 and we retreated back to the tent.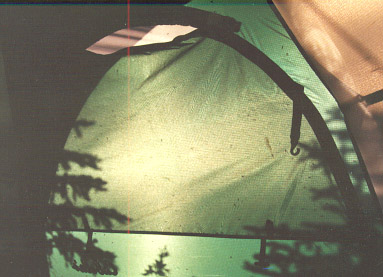 This is what we saw for much of this day.  Note the mosquitoes.

Click here to read about a Golden Eagle's attack on flightless geese on our way to
Muskox Hill.