Shipp & Mo's Thelon River Expedition

Tragedy, Muskox and White Wolves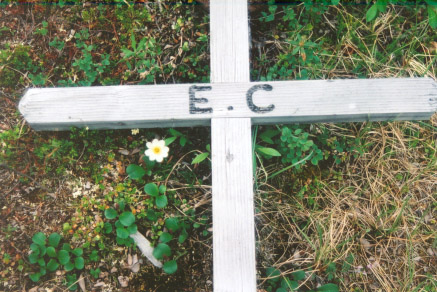 The grave of Edgar Christian, dead by starvation  at age 17.


We talked late and consequently got up late.  It was cloudy with a little light rain.  Even though we both had quick bowls of oatmeal, we didn't get underway until 11:45 am.  We started slowly.  An east wind slowed our progress to 1.5 km in 25 minutes.  There was some braiding in the river with more current.  It was easier to stay in the current as we picked our way through some gravel bars.  There were thick areas of forest and willow and less tundra than earlier.

Although we had seen many wolf, bear and moose tracks, we had not seen any large mammals.  As we approached Hornby's cabin, we saw a bull muskox eating willows near the shore.  We slowly approached him and got within about 50 feet.  We had several good views before he moved away upstream.  We probably saw a second one without knowing it.  A brown lump that I pronounced a rock was not there when we looked back.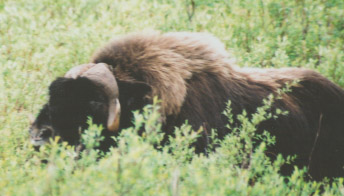 By using the drawing and description in Pelly's book we were able to find a path that led to Hornby's cabin.  It's upstream of Hornby's Point and near a place where a long gravel bar flattens out.  We saw some footprints and followed them to the cabin.  In 1927 Jack Hornby, Edgar Christian and Harold Ablard all starved to death in the cabin.  Edgar was the last to die and his journal tells the story.
  Cold Burial
summarizes the journal and adds more detail about the three men--really two men and a boy of 17.  In contrast with the Warden's Grove cabins, this cabin was dug into the ground and dirt had been piled up on three sides.  The roof had collapsed and much of the walls had rotted.  But the graves are nearby with the original crosses.  Recently new crosses have been laid on the graves.  The place has a very sad atmosphere.  It also serves as a reminder that wilderness canoeing carries inherent risk.  These were some of the first adventurers in this area.  They died when this made the erroneous assumption that caribou would come close by.  When the caribou did not appear, they had no alternative food source and starved.  We took pictures, paid our respects and moved on.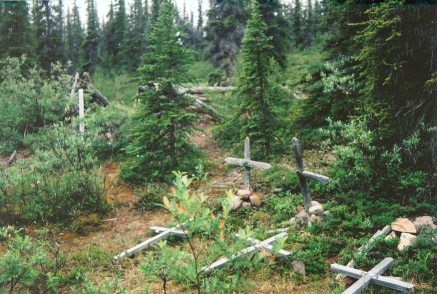 The remains of the cabin can be seen in the background.


We passed Hornby Point and moved on to a flatter area where the river braided through gravel bars.  On the last gravel bar that the water went around I saw what I thought was a fox.  Mo corrected me, "It's a wolf."  It was a dirty white.  It was lying on the gravel bank just out of the willows.  When it saw us, it unhurriedly got up and disappeared into the willows.  Then we saw a Bull Moose eating willows just 100 yards farther.  He also moved back into the willows on a collision course with the wolf; even though we watched for a while we couldn't tell if they met in the bushes.

We stopped and walked around on a gravel bar where an unnamed river entered on river left.  But it seemed lumpy and damp and we decided to go on down the river.  Suddenly I saw another white wolf trotting and sniffing along the bank in front of us.  The river turned left and narrowed.  We drifted and watched the wolf.  He watched us very intently.  He would sometimes lower his head and look at us and then move downstream and give us another intense look.  As we drifted he kept the same pace along the water's edge.  Eventually he went up on the bank and we had beautiful views of his side as he looked back at us.  Finally he trotted away from the river across the tundra.  We climbed up the bank and decided to camp there.  We could see a white dot that was the wolf for a long time as he continued his hunting away from the river.  All of this took about fifteen minutes and we were awe-struck.

We ended up camping right where the wolf had gone up the bank.  It was my turn to poop in a cloud of mosquitoes.  I wore a piece of mosquito netting from the shelter like a skirt and it seemed to help; but it was still an unpleasant experience.  The mosquitoes were particularly bad here and I had to wear my bug shirt, repellant even in the shelter.  But I had a great supper of Pinto bean flakes, rice, biscuit with cheese and butterscotch pudding. 

We finally went to bed at 10:30 and it was still light enough to write in my journal and read for a little while.  We thought the rain had returned but it was only clouds of mosquitoes trying to get in.  A last look out of the tent: still low gray clouds and an east wind.  The barometer was low but steady.

Hornby's cabin: 13 V 055548, 710150.  White Wolf Camp (our campsite) 13 V 056215, 711230.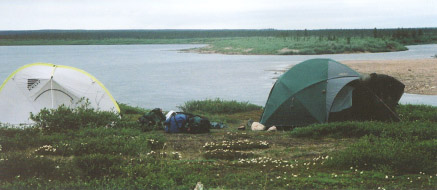 White Wolf Camp --looking upstream.