Shipp & Mo's Thelon River Expedition

Mo at Lookout Point.  The Thelon River is in the foreground; the Finnie River is behind it.

Lookout Point


Almost from the beginning of the trip we had been figuring how much distance we had to average each day to reach our pickup point on July 14.  For several days it had been about 16 miles.  So after our wind bound day we decided to do about twice that amount.  We ended up paddling about 29 miles and were back on schedule.  Due to Mother Thelon's dislike of all the technology I brought, we used a strong fishing cord that Mo wore with a raven pendant he had gotten on his Noatak trip in Alaska.  We placed the cord on the curvy river and could get a pretty accurate measurement of the distance.  At night I would use this cord to figure where our 16 mile average would put us.  I marked this place on the map so that we would know what to shoot for.

Today was different because we were aiming for Lookout Point and planned to spend the day there.  It was an important place to the native inhabitants.  It marked the boundary between the Chipewyan Indians and the Inuit. If Inuits came farther upstream, the Chipewyans would kill them.  It was also a place were both groups met and traded.  I particularly wanted to stop there and get a feel for the place and I thought the elevation would help us see any wildlife in the area.

So we paddled only 12 miles on this day.  Because of a headwind it took us about three hours.  We took our time climbing to the top of the point and found a low point on the upstream side.  It was like a long portage in the Boundary Waters.  We didn't see that much wildlife.  A Semi-Palmated Plover with three chicks lived right where we beached the canoe.  The chicks were so well camouflaged that we had to be very careful where we stepped.  On top there were several ancient tent rings which we were careful not to disturb.  There were also chips from where the ancient people had worked their stone tools.  We found another ground squirrel in the trash in our cooking tent and witnessed two of them battling over territory.  The fighting ended when they put their butts together and then went off in different directions. 

So we enjoyed the view but given the troubles we had ahead of us I think we should have taken advantage of the good weather and pushed on.  Lookout Point is very pretty and the views downriver and across to where the Finnie River enters are beautiful but they do not require a whole afternoon to absorb.

It was very warm and we took our first bath down at the river.  Mo had a metal bucket of water that he warmed in the sun for a while.  I used water directly from the river.  It was cold but I felt reinvigorated after drying off in the sun.
A Semi-Palmated Plover chick blends in with the rocky beach.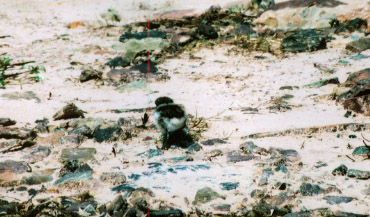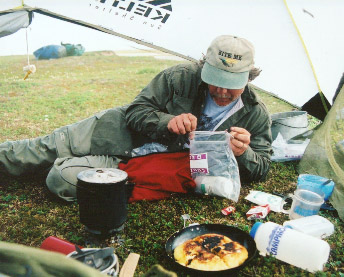 Breakfast at Lookout Point.  Note the Cache Bay Fry Bread, delicious even with a few burned spots.