Alaska Diary: Day 10, September 9, 2001


Even though we were well out of the mountains and had dropped over 1300' in elevation, we had our coldest night.  At 6:30 we peeked out and saw frost all over our stuff so we snoozed until about 9:00.  But it was sunny and warmed up quickly.  We tried to dry our sleeping bags and other gear and ate a leisurely breakfast.  We decided to climb a low hill behind us to see how we could hike to the mountains we saw in the distance.  But by the time we crossed the river and climbed up there we realized it was too far.  We wanted to float about 10 miles down the slowing and flattening river and there just wasn't time. 

We did have time to hike over to a higher hill to the south.  We started down doing a lot of mindless talking to avoid bears, came out of the forest and started across some very boggy, spongy ground.  We encountered a stream that was too deep to wade across.  We searched a little way in both directions but, when we couldn't find a place to cross, ended that foray and went back up the hill.  Remembering we had seen some cliffs from our campsite, we headed in that direction and it turned out there was a well-beaten path leading down to them.  Although there were some cigarette butts and empty rifle shells, there was a beautiful view of the river and valley.  There was also a half a moose antler lying on the ground.

It was a beautiful day, sunny day and we took in the view for many minutes.  We saw a group of 4 Yup'ik boats come by.  It was the same group that we had seen several times during the trip.  The boats looked heavily loaded, perhaps with caribou and blueberries.  When we finally turned to leave, we noticed a clear path heading in the direction of our raft.  It came out on the riverbank a little upstream of our raft.  It was a very messy native fish camp.  Garbage was all over the ground and toilet paper was everywhere.  If we had had any ideas about the natives living in a pristine way in the midst of nature, we forgot about them after this.

The bears were still fresh in our minds.  Cautiously we followed a game trail along the bank to the raft.  We hopped in the raft and again confronted the business of choosing the correct channel out of many braids.  We also rejected several gravel bars until we found a particularly high one.  It had the remains of a campfire, which meant it had met the requirements of other travelers.  It was long enough to get good separation between the cooking and sleeping areas.  We set up the raft, made a fire and enjoyed a tasty meal and a beautiful sunset.  We went to sleep planning to get an early start because my GPS unit reported that the straight-line distance to the pick-up point was 18 miles, more than we had done in one day.  Given the increasing size and number of the meanders of the river, we also knew it would be more than 18 miles.
Herb Pohl, a Canadian canoeist of 72 years or age, was asked how his experience of wilderness has changed over the years.

  "The novelty is reduced, obviously. . . But the feeling of absolute eleation when you look at a wild landscape--not pretty in the groomed garden sense--but undisturbed by humanity--absolutely natural--that elation never goes away."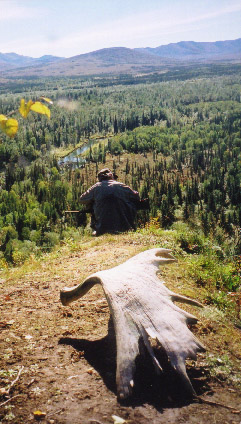 Norm looks out at the valley below the cliffs.  It looked like many natives had hunted from this spot and apparently had some success.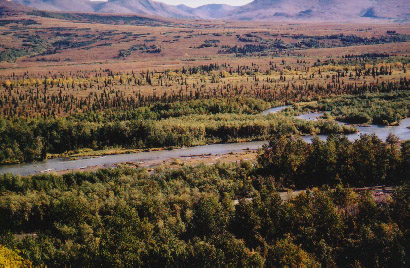 The high mountains were too far away for a hike.  The gravel bar where we camped and saw the two bears is the bare area on this side of the river.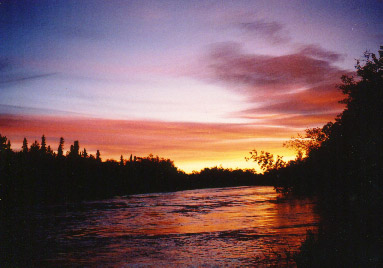 One of the few sunsets of the trip.  But well worth the wait.  This is taken from Camp 6.