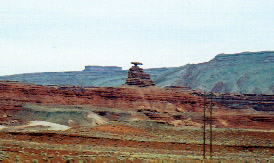 Mexican Hat rock.  We would see  the other side of this formation from the river in a few days.


Norm and I headed to the Flagstaff airport early the next morning.  We had been told they had a Chrysler Grand Caravan and we wanted to be the ones to claim it.  It took about an hour back at the motel to load the raft, cooler and all our gear in the raft.  The frame, oars and floor pieces were all lashed to the roof rack. 

We then headed north on route 89 with great views of the snow-capped San Francisco Mountains to our left.  We crossed the Painted Desert with its multitude of colors and headed northeast on route 160.  We passed many places to which I hope to return somedayNavajo National Monument which has the well-preserved Keet Seel ruin and Monument Valley which is filled with the eroded sandstone buttes, photographed so often that they seem familiar.  At Kayenta we turned north on 163 got a glimpse of the greenish San Juan as we passed through Mexican Hat.  We saw Valle's where we would park our car for only $1.00 a day.  Our next stop was Bluff where we hooked up with Ruben, our shuttle driver.  He led us to the put-in near Montezuma Creek.  Colin and I pumped up the raft, attached the frame, and strapped in the metal center floor section and the wooden bow floor while Norm shuttled the car to Mexican Hat.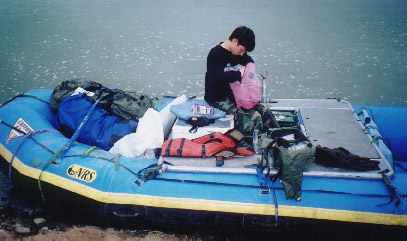 The raft is rigged.  Colin and I wait for Norm.

Two Navajo women drove up and asked, "Seen any goats?" 


"No."  They drove away.

It was getting dark by this time and we only went around one or two bends before camping on a sand and cobble island.  We set up our tents and cooked by flashlight.  Norm and son had new sleeping padsthey had forgotten theirs and had bought two more in Flagstaff.  But we were excitedwe were camped within sight of a ruin on a flat outcropping about fifteen feet above the river.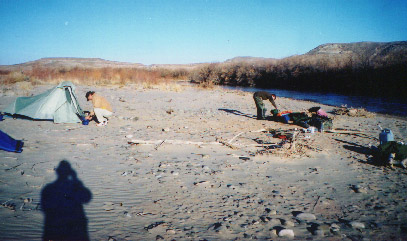 Our first camp, officially on Navajo land.