A Day of a Very Long Portage

The wind lessened during the night and I was happy not to find my tent buried in foam. Using my Brunton Atmospheric Data Logger, I saw that the temperature was in the mid-50's at sunrise. For a Tennessean this is a bit cool for a mid-June summer day and I dozed a few more minutes until it warmed up a few degrees. I couldn't be too lazy. The long 2-mile portage began just down the lake. I packed up and 15 minutes later I was ready to begin. I long ago overruled the teenager and planned to double portage over to Cummings L. I again started with the pack and paddle. Most folks like to start with the canoe but I wanted to explore the trail and see if there were any deadfalls or serious swamps. I saw right away that a maintenance crew had very recently been at work with both a saw and axe. By the end of the trail I realized that I was very fortunate because many trees had fallen across the trail and that it would have been an exhausting nightmare to carry the canoe through, under and around all the thick brush. This portage was more like a hike and the trip back was very pleasant. Back at the beginning of the portage I found out I was luckier than I thought because 2 guys who were just arriving said that the portage crew had just been there two days ago. I took off with the canoe and was pretty tired at Cummings Lake.  I'd walked about 6 miles, two-thirds with a load. My GPS revealed that about three hours passed during the 6 miles of walking, loading,  unloading, and a short rest.

The next goal was to get to the only campsite on Otter L. It is close to the source of the Little Indian Sioux River (LISR) which has no campsites. One can paddle a good way and then do a mile portage to campsites on Little Trout L. or paddle farther to Bootleg L. for one of two campsites there. I planned to do the latter and wanted to shorten the next day's paddle as much as possible.

Cummings L. was familiar territory. I had come up from the south (Luetta L.) a few years before and had battled a headwind. This day there was also a headwind as I paddled west. My new canoe handled this pretty well in this its first headwind on a big lake. My bow was trimmed up a little high but it turned out to be more of a project than I thought to move my kayak-style backrest forward. I'll have to work on that. I saw some occupied campsites here and a few fishermen in the lee of islands and points of land. There are many ways to enter Cummings and it seems like many people paddle in and set up camp for a few days. Many of the campsites seemed to have heavy use and didn't appeal to me. There's a very short portage into Otter L. and only then can you see if the campsite is occupied. It was open. It's a nice site with one pine needled-covered tent area under some large white pines and another on a high rocky place that overlooks the fire grate and the lake. I chose the pines and put my tarp over the tent. Rain seemed imminent; but by the time I had it all arranged the sky was much lighter.

A little while later two guys in a canoe paddled up and complained about how the other sites were rundown. They wanted me to invite them into this site but I said I was really enjoying my solo trip. It turned out that they were really part of a group of six.

At that I said, "Come back early in the morning. I'll be gone and you can stay as long as you want." I thought they were pleasant enough about it and the way they waited for me to invite them is a good procedure. A few years before on Bootleg L. a group had set up their tents along side of mine while I explored the other side of the lake. It worked out but it's better to proceed with the site's occupier's permission.

Here's my tent and tarp set up: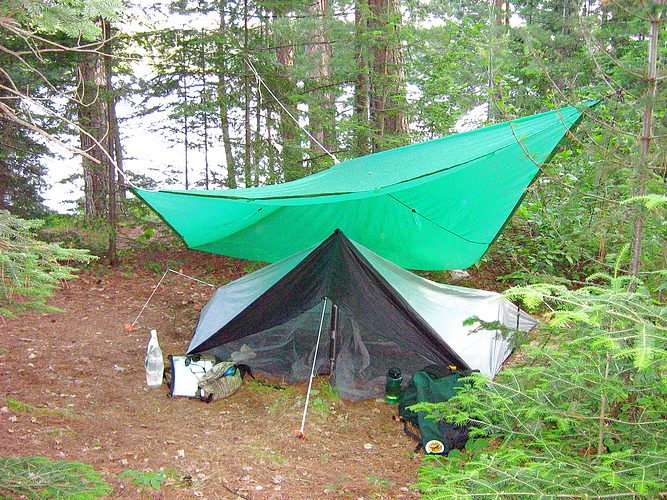 And here's a view out onto Little Otter L.